INTERNATIONAL SEMINAR MEM-Q
05/14/2018 - 05/16/2018
Special section "Stochastic Multistable Systems" within the framework of the International Workshop on Nanoelectronic Memristive Devices for Quantum and Neuromorphic Computing (MEM-Q International Workshop "Nanoelectronic Memristive Devices for Quantum and Neuromorphic Computing")
---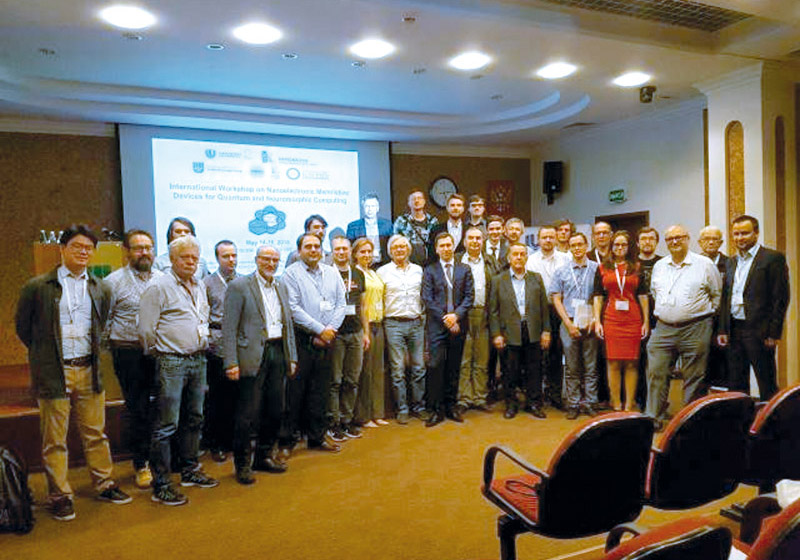 In accordance with the order of the rector of UNN No. 110-OP dated 03.16.2018, on the basis of the National Research Center "Kurchatov Institute", a special section "Stochastic multistable systems" was organized and held on May 14-16, 2018 as part of the International seminar on nanoelectronic memristive devices for quantum computation (MEM-Q).

Despite the original format of the seminar, the final MEM-Q event can be considered the first international conference on memristive materials and systems in Russia, which brought together more than 50 leading scientists from different parts of the world (USA, Korea, Europe) and from different regions of Russia (from Kaliningrad to Tyumen). The program of the seminar included an excursion to the centers and laboratories of the Kurchatov complex of NBICS technologies, a plenary section with overview reports on the implementation of neuromorphic systems (V. Demin), various computational approaches based on memristors (Yu. Pershin, G. Sirakoulis) and a section of invited talks on memristive neuromorphic and neurohybrid systems, physics, technology and modeling of memristive nanomaterials and circuits.

An important event of the seminar was a special session on stochastic multistable systems, organized within the framework of a grant from the Government of the Russian Federation, allocated for the creation of the StoLab laboratory at Lobachevsky University under the leadership of the leading Italian scientist Bernardo Spagnolo. This project is aimed at developing and creating new generations of electronic devices and neuromorphic artificial intelligence technologies based on memristive materials using the latest methods of statistical analysis.

UNN was represented at the seminar by a large delegation (O.N. Gorshkov, B. Spagnolo, A.M.Satanin, D.O. Filatov, A.N. Mikhailov, K.V. Sidorenko), headed by Vice-Rector for Research .B. Kazantsev. In addition to active participation in the scientific program and organizational events, UNN representatives managed to exchange research results with partners and agree on work plans within the framework of joint projects.

The participants of the seminar highly appreciated the level of organization of the seminar and exchanged information on the next events in 2018 in Italy and Greece.